News
PTTEP reported net income of USD 409 million in the first half of 2020 Sharpened its business plans amid challenging environment
12 Aug 2020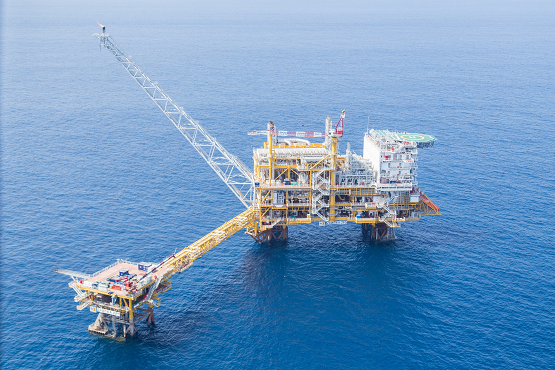 PTTEP reported net income of USD 409 million in the first half of 2020
Sharpened its business plans amid a challenging environment

Myanmar, 12th August 2020 – PTTEP reported net income of USD 409 million (equivalent to 556 billion MMK) for the first half of 2020 with strong financial positions despite challenges resulted from the global oil price situation and the spread of coronavirus 2019 (COVID-19) with the approved interim dividend payment at THB 1.5 per share (equivalent to 66 MMK per share). The company has revised its business plans to cope with current and future challenging circumstances, assuring the company's sustainable growth.


Mr. Phongsthorn Thavisin, President and Chief Executive Officer of PTT Exploration and Production Public Company Limited (PTTEP), said that in the first half of this year, the company generated total revenues of USD 2,779 million (equivalent to 3,779 billion MMK), decreasing by 7% from USD 3,001 million (equivalent to 4,081 billion MMK) in the same period of 2019. The average sales volume was at 345,207 barrels of oil equivalent per day (BOED), increasing by 6% compared to 326,971 BOED in the first half of the previous year driven by the acquisition of Murphy Oil Corporation's business in Malaysia and Partex Holding B.V.


However, as a consequence of the COVID-19 outbreak and the oil price war between Saudi Arabia and Russia in early March this year, the global demand for energy consumption has crashed while the oil price has fallen to more than 50% from the beginning of this year. As a result, PTTEP's average selling price dropped by 15% to USD 40.15 per barrel of oil equivalent (BOE) compared to USD 47.26 per BOE in the same period last year. Nonetheless, the company's selling price decreased in less proportion comparing to the decrease of the crude oil price since the natural gas price has already been secured with the sales agreements in which price formula are partly linked to fuel oil and referred to an average historical price of past 6 to 24 months. While the crude oil that accounts for roughly 30% of total sales volume and is directly impacted by the oil price volatility, the Company has entered oil price hedging contracts for certain portion. Besides, PTTEP recorded an impairment loss of USD 47 million (equivalent to 64 billion MMK) primarily from Mariana Oil Sands project in Canada due to the forecast of long-term low oil price indicating project development uncommercial.


Accordingly, PTTEP reported net profit of USD 409 million (equivalent to 556 billion MMK) in the first half of 2020, decreased by 51% from the previous year of USD 827 million (equivalent to 1,125 billion MMK). Meanwhile, the unit cost was remained at USD 30 per BOE with Earnings before Interest, Taxes, Depreciation and Amortization (EBITDA) margin of 70%, aligned with the company's target.
In the second quarter of 2020, PTTEP posted total revenues of USD 1,095 million (equivalent to 1,489 billion MMK) and net profit of USD 134 million (equivalent to 182 billion MMK). This was mainly due to lower sales volume and average selling price, following to lower energy demand from the impact of COVID-19 pandemic and the decrease in global oil price.
The approval of an interim dividend THB 1.5 per share (equivalent to 66 MMK per share)

From the operating results reported above, on 30th July 2020, the Board of Directors approved an interim dividend payment from the first six-month company's profit at THB 1.5 per share (equivalent to 66 MMK per share). The Record Date to entitle rightful shareholders who may receive the dividend will be on 14th August 2020 and the dividend payment will be on 28th August 2020.
Revision of strategic plan to foster long-term sustainable growth


Mr. Phongsthorn said that the volatility of the global oil price together with the outbreak of COVID-19 continue to have an impact on domestic energy demand. PTTEP, as a result, has revised target sales volume for the year 2020 to 355,000 BOED, approximately 9% lower from the target previously guided at the beginning of the year. Nevertheless, the Company has cut down the 2020 total expenditure of 15-20% from initially set at 4,613 million USD (equivalent to 6,274 billion MMK) by reducing some operating expenditures and deferring certain of exploration activities in some projects with no impact to future operations and interruptions to the energy supply of the country. In addition, the Company has sharpened the strategy to cope with business challenges and support long-term sustainable growth.


"PTTEP evaluates the impact from the COVID-19 pandemic and the changing industry landscape. Therefore, we have sharpened the business plans and set the aspiration goals for 2030 to maintain our competitiveness and ensure sustainable growth. Our goals are going to be quite a challenge, especially under this dynamic business environment. Under the revised plans, the Company focuses on continuously reducing the unit costs to reach the top quartile in the industry. This will allow the Company to be resilient to oil price volatility while sustaining operating cash flow to support the investments in E&P projects as well as the business acquisitions. Our focused areas for investments remain in Thailand, Myanmar, Malaysia, and the Middle East. The company expects the average production growth rate (CAGR) to be at 5% and aims to maintain the reserves to production ratio (R/P ratio) of 7 years. In addition to our core business, PTTEP is also seeking for opportunities in driving a fully integrated Liquefied Natural Gas (LNG) business both upstream and liquefaction and investing in new businesses including power, and robotics and artificial intelligence (AI) to overcome challenges in the energy transition and to create long-term growth. The new business is targeted to contribution 20% to Net Income in 2030." Mr. Phongsthorn stated.


In addition, PTTEP has transformed internal working process to reflect the New Normal way of living by introducing digital technology into working system and human resources development to enhance effectiveness in terms of working procedures as well as production cost efficiency.
About PTTEP Myanmar Asset
PTTEP Myanmar Asset is an operator in Myanmar. It is a subsidiary company of PTT Exploration and Production Public Company Limited (PTTEP), which is a Thai petroleum exploration and production company dedicated to providing a sustainable petroleum supply to the countries it operates in. A top-ten publicly listed company in the Stock Exchange of Thailand, PTTEP operates exploration and production projects around the world.