News
PTTEP Myanmar Asset awards Twenty Myanmar Students High Vocational Diploma Scholarships worth US$200,000
25 Oct 2019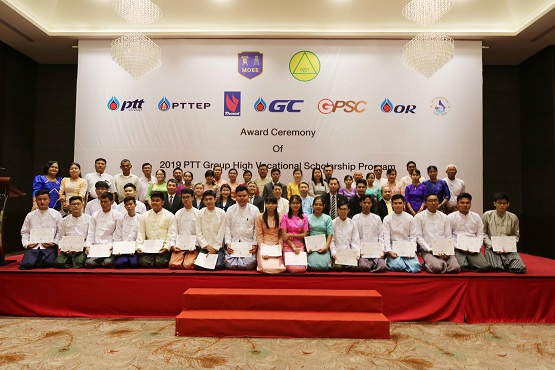 25 October 2019, Yangon, Myanmar – PTTEP Myanmar Asset awarded High Vocational Diploma Scholarships (HVD) to 20 Myanmar students at the 2019 scholarships awarding ceremony at Pullman Yangon Centrepoint Hotel today. The award ceremony was graced by U Than Zaw, Director General of Oil and Gas Planning Department (OGPD), Ministry of Electricity and Energy (MOEE), Dr. Myo Thura, Director and Principal of Department of Technical and Vocational Education and Training (TVET) Myanmar, Ministry of Education (MOE), Mr. Wisarn Chawalitanon, Senior Executive Vice President of International Marketing, PTT Group.
Initiated by PTT Group and its subsidiaries[1], the HVD Scholarship Program was launched in 2013 with the support and collaboration of MOEE and MOE. Under the program, eligible Myanmar students from the Associate of Government Technical Institute (AGTI) undergo three years of vocational education and training at the IRPC Technological College (IRPCT) in Rayong, Thailand.
2019 marks PTT Group's seventh year running the full, bond-free scholarship program in Myanmar. To date, 170 scholarships worth US$1.96 million in total have been awarded to Myanmar students, and 83 Myanmar HVD scholars have graduated from the program.
"Throughout our 30 years of operations in Myanmar, PTTEP has invested in the improvement of the community's livelihoods and the development of the country," commented Mr. Piya Sukhumpanumet, General Manager of PTTEP Myanmar Asset. "The HVD scholarship program is one of our CSR initiatives, aimed at developing a skilled and competent workforce to drive Myanmar's economic growth."
"We are honored to be part of Myanmar's sustainable development and look forward to continue collaborating with the Government to develop human capital in Myanmar," he added.
Incorporating both classroom, practicum and on-the-job internship training, the curriculum is designed to equip students with workplace communications and technical mechanical skills that are required for industry trades, such as electrical and electronics, mechanical drawings, welding and CNC[2] machining. Students are also trained in personal finance, business and entrepreneurship.
"A good quality education plays a vital role for the sustainable development of any country. The collaboration with PTTEP Myanmar Asset through the HVD scholarship program is aimed at addressing the need for skilled labor in Myanmar. PTTEP Myanmar Asset's support helps deserving individuals acquire training and qualification in various fields, which is required for Myanmar's socio-economic development. We look to forward to helping students improve their skills and gain better employment in future," said Dr. Myo Thura, Director and Principal of Technical and Vocational Education and Training (TVET) Myanmar, Ministry of Education.
"I am delighted and very grateful to be given the opportunity to study abroad. Upon graduation, I intend to give back to the community by using and sharing what I learn with others," said Mg Thein Htet, one of this year's HVD scholarship awardees.



[1] PTT Group's subsidaries include PTT, PTTEP, Thai Oil Public Company Limited, PTT Global Chemical Public Company Limited and Global Power Synergy Plc..
[2] CNC (Computer numerical control) machining is a process used in the manufacturing sector that involves the use of computers to control machine tools.