News
PTTEP Myanmar Asset receives "The Highest Taxpayer Award" by Internal Revenue Department, Ministry of Planning and Finance
21 Aug 2019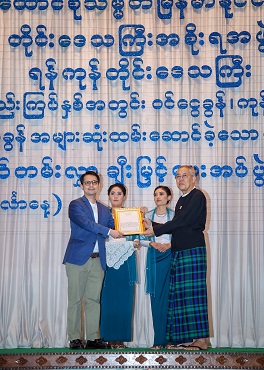 21 August 2019, Yangon, Myanmar – On 5th August 2019, PTTEP Myanmar Asset represented by Mr. Thosaphol Thipayarat, Finance and Accounting Manager received the "Myanmar Highest Income Taxpayer Award" for the Tax Assessment Year 2017-2018 from U Tin Maung Tun, Chairman of Yangon Region Parliament at Mingalar Hall, Yangon Regional Government Office.
The awarding ceremony was organized by the Internal Revenue Department, Ministry of Planning and Finance, for companies that pay the highest income tax, commercial tax and specific goods tax. During the Tax Assessment Year 2017-2018, PTTEP Myanmar Asset was in top ten list of Highest Taxpayer Company among Foreign Investments in the Republic of the Union of Myanmar.
The Internal Revenue Department expressed their appreciation to PTTEP Myanmar Asset's commitment and support for Myanmar's Economic Development.
PTTEP Myanmar Asset was also recognized as Myanmar's long-term trusted partner and friend, having worked in a socially responsible manner to strengthen Myanmar's energy security, as well as improve the quality of life for the communities as part of its commitment to "Empowering Opportunities". PTTEP Myanmar Asset responded that it was proud to be part of Myanmar's sustainable economic, social, environmental and human capital development.